The new generation of TXT (TXT-E) is upgraded to be stronger and safer than ever before to protect you and your employees.
Just as with previous versions, TXT-E continues to be manufactured in the US for quick lead times, ensuring your operations stay up and running.
From legacy to legendary
Dodge® invented the concept of shaft mounting a reducer to optimize industrial operations and debuted the original TXT in 1949. Built on the legacy of innovation and reliability TXT-E sets the benchmark for performance and safety, withstanding the most extreme application environments.
Improved backstop

Withstands higher loads compared to competitors and extends product life
Bushing
covers
Blocks contamination and eliminates potential violations by meeting Occupational Safety and Health Administration (OSHA) guidelines
Shaft guard
Quick to install using basic hand tools and customize the length to fit a variety of applications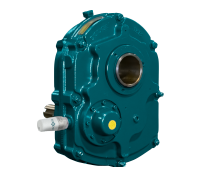 Sensor ready
Allows for Dodge sensor installation to remotely monitor gearbox health with OPTIFY™, a condition-monitoring platform.
Gain valuable insights to make better-informed operations decisions





Mitigate unplanned downtime, improve reliability, and reduce expenses




Interested in learning more about TXT-E? Please fill out the form to review access to our TXT-E brochure.